Space Heaters: Do's and Dont's
12/30/2021 (Permalink)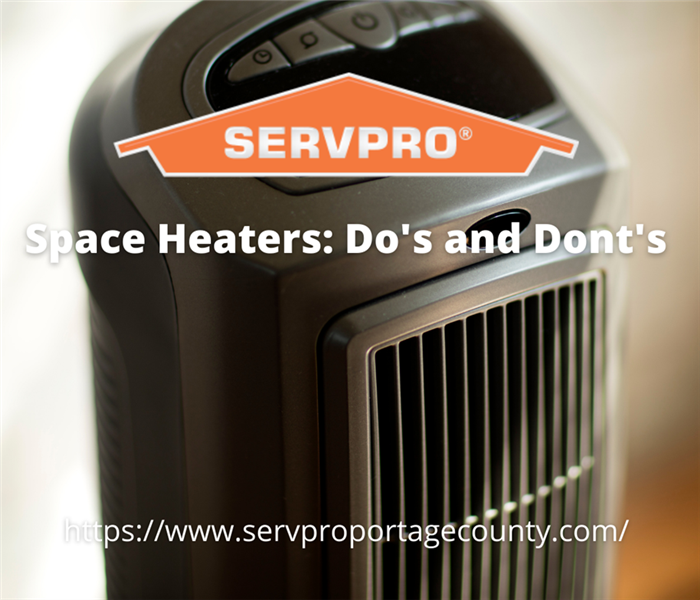 It has cooled down and it's officially time to turn on the heaters. Space heaters are high-wattage items that have the potential to create fire and set items like curtains and clothing on fire. According to the DoE, 6,000 people go to the emergency room with burns from coming into contact with space heaters. If you follow the proper safety precautions, your space heater will be safe to operate.
DO:
Check the label of the heater. Your space heater should be listed by a qualified testing laboratory.
Buy a heater with a smart sensor. Some space heaters have sensors, and they will turn off when they overheat or if it tips over.
Check here to make sure your space heater has not been recalled.
Make sure that your space heater has been updated and has been tested. In addition, make sure that your carbon monoxide detector is tested monthly.
Examine your space heater and check the cord and plug. If you think that there is damage, do not run your space heater.
Unplug your heater when it is not in use.
DON'T:
Keep your heater near water. Your space heater should not be left in kitchens or bathrooms, where water is likely to splash around.
Keep your space heater near flammable objects. Objects such as curtains, papers, furniture, pillows, and bedding are all objects to avoid when using your space heater.
Leave your heater alone. Make sure that you are in the room while you are using your space heater, especially if there are young children nearby. In addition, do not leave your space heater on while you are sleeping.
If you have questions or concerns about your space heater, check it frequently and make sure that it is working correctly. Lastly, before you buy your heater, make sure that it is not recalled.